This was our first week of adding everything back into our schedule. Well, almost everything. Since it was a four-day week, we stayed with a normal weekday schedule instead of art and nature study on Friday. Plus, I forgot about typing and deliberately chose to skip piano most days. I had a mild cold all week. Not a big deal, but just enough for me to be off my A-game. I'm not really sure I have an A-game, but if I do, I certainly didn't show it this week. Tuesday afternoon, it was all I could do to keep from falling asleep while I read aloud to the kids. And Thursday night while preparing dinner I burned the bacon beyond recognition. Twice. And since this was our favorite expensive bacon from Whole Foods, that made our simple skillet meal more expensive than if we had gone out to eat.
Back to homeschooling. It was exhausting, but it was a good week. My biggest accomplishment was actually starting IEW's Ancient History Writing Lessons. IEW has intimidated me for so long, that it was a victory just getting the first lesson behind me. It's too early to tell how successful we'll be with it, but I could tell that the checklist system appeals to Ryne. I was, however, frustrated with our nifty

portable walls.

I bought two of the walls at our convention last year, but for some reason they are printed differently. So my teaching sounded something like this:
Me: Let's look at the list of -ly words on your folders.
[Look at Grace's folder] It's right here in the middle.
Ryne: I can't find it.
Me: In the middle, honey. Open the folder, and it's right in the middle.
[Ryne gets upset, so I look at his folder.] Hmm... okay, your -ly list is on the back. So you turn to the back, and Grace to the front.
Me: Now let's look at the list of strong verbs. Where is it on Grace's folder? Okay, now Ryne's. Ryne, where IS your folder? Oh, forget it -- let's just look at the list in the book. What page was it on again? Is this the teacher book or the student book? Oh, look -- our 30 minutes for writing is up!
[Thinking to myself] I wish Starbucks would deliver to my house.
Here's a peek at our week: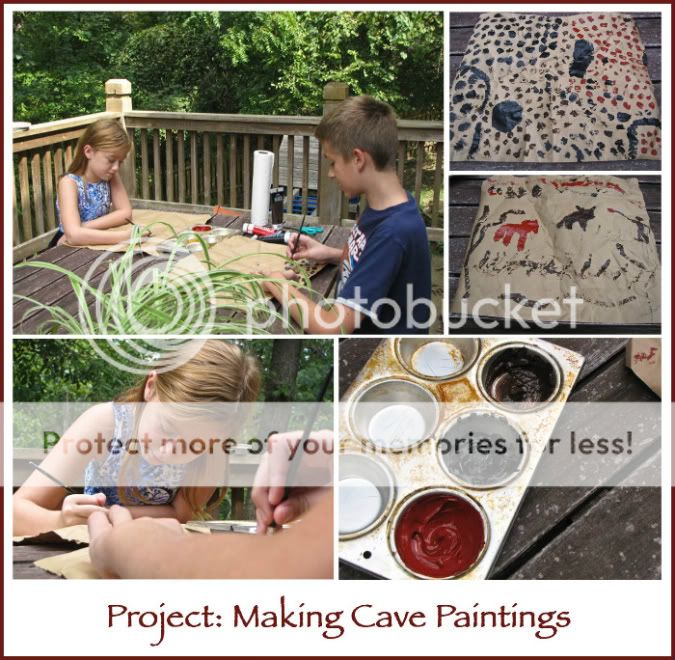 GRACE
Grammar, spelling, phonics, math, math drill, map skills, oral reading, Sunday School lesson, Mind Benders, copywork, piano (1 day), swim (2 practices).
RYNE
Spelling, grammar, math, math drill, oral reading, outlining, Mind Benders, copywork, swim (2 practices).
TOGETHER
Memory:
Bible Sound-Off; review old stuff
Latin:
Latin for Children A
-- finished Ch. 2, started Ch. 3
Science:
Exploring Creation with Zoology 1
-- started Lesson 1
Read-aloud:
The Burgess Bird Book for Children
(look at this great resource!)
Composer Study:
Started Tchaikovsky
Geography:
Lesson 1 from
The Core -
labeling the 5 great circles
Writing:
IEW Ancient History -- finished lesson 1, started lesson 2
History/Bible:
Story of the World 1
; Intro – How Do We Know What Happened?
Archaeologists Dig for Clues, Kate Duke
Veritas Press History & Bible Cards 1 - 7 (Creation - Tower of Babel)
For each card we read the accompanying selections from The Child's Story Bible (Vos) and Journey Through the Bible (Cook).
SOTW Ch. 2 – The Earliest People
Project : Make a Cave Painting
THOUGHTS
I spent hours planning out our history, and I'm so excited to have finally started! This will be our second time around with SOTW 1, but Ryne seems much more engaged now that he's older. Grace, who was usually napping when we did it four years ago, is enjoying it for the first time. The only thing I wished we had done different the first time would have been to incorporate more Bible history. So this year I added the Veritas Press history and Bible cards into our history studies. Each card gives various reading suggestions for further study, so I'm adding a couple of those too. If you're really interested in the nitty-gritty details, I've
uploaded my plans here
. I might have been too ambitious -- it will be tough to fit it all in one school year. But we've always been pretty heavy on history in this homeschool and this will take the place of any formal Bible curriculum. The first week went very well!
Happy Homeschooling!