Today I'm a west coast blogger, and it seems strange knowing that some of you will soon be eating lunch while Marc and I buy our umpteenth cup of Starbucks since arriving in Portland, Oregon last Friday. The fun actually started last Tuesday when we loaded up the kids and dog and drove to Denver. It's nice having both sides of our family there now -- my sister and dad joined Marc's family for Thanksgiving dinner at Marc's sister's house. Then Friday, Marc and I flew out of Denver to Portland to attend the wedding of one of my many cousins. My sister flew out on a different airline; my dad stayed home, happy to babysit the dogs. Marc's mom is enjoying watching our kids. In a few hours we'll start our long trek home.
My cousin married a professional comedian, so the wedding was definitely unique. I've never seen so many people lined up to toast the bride and groom -- it was like a comedy hour right there at the reception. While there were many blush-worthy moments, there were also lots of genuinely funny times throughout the weekend. I'm truly happy for my cousin and her new husband, and I love the family reunions that always come with the cousin weddings.
By Sunday afternoon, all the family were on their way back home -- except for Marc and me. We decided to enjoy our first kid-free trip in six years just a little longer. So as I wait for my hubby to make one last Starbucks run, I'm taking a moment to count my blessings.
121. Five people and a dog packed into a minivan. I love road trips!
122. That my husband is an expert minivan-packer.
123. That he also likes doing most of the driving on our long trips.
124. That first glimpse of Pikes Peak from I-70.
125. Unseasonably warm weather in Denver, especially since I forgot to pack the kids' coats.
126. My walks on south Denver's Highline Canal trail, so I didn't feel as guilty about indulging in some pumpkin pie.
127. Pumpkin pie.
128. A house full of family and friends celebrating the Lord's goodness.




129. Meeting my sister's boyfriend.
130. Seeing my dad in his new house and knowing the stress of his move was worth it.




131. Evening of playing cards with the family, especially if it's Shanghai Rummy.
132. Flying over the Rocky Mountains and then later seeing the magnificent peaks of Mt. Adams, Mt. Hood and Mt. St. Helens of the Cascade Range out our airplane window.
133. Our flight arrived a few minutes early. We were nervous about missing the wedding with Black Friday travel, but everything went smooth and we had several hours to relax before the wedding.
134. Starbucks right across the street from our hotel (as well as one block away in just about every direction).
135. Weddings. I love everything about them.


136. Family reunions.




137. Sharing a dance with my hubby.


The bride hung family wedding pictures around the room, so here are Marc and I with our picture; my mom and dad's photo is above ours.
138. Exploring downtown Portland with my sister, while Marc watched football with my male cousins.
139. A fun Saturday evening with the family.
140. Four of us visiting a really neat church Sunday morning. Such a great reminder that we are just a small part of the church universal.
141. Having an extra day in Portland, spent just with my hubby.


142. The anticipation of being with the kids again and a safe trip home.




God is good! Hope you had a blessed Thanksgiving too.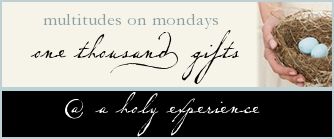 P.S. I think this post contains more pictures of yours truly than I have included in the entire history of this blog. So now you know I'm a real person. ; )